updated April 24, 2022
The DNR published an updated chart of wildfires from 2014-2021. In a Tweet from Northwest Interagency Coordination Center (@NWCCInfo), "From '14 to '21 we saw a 43% increase in human caused fires."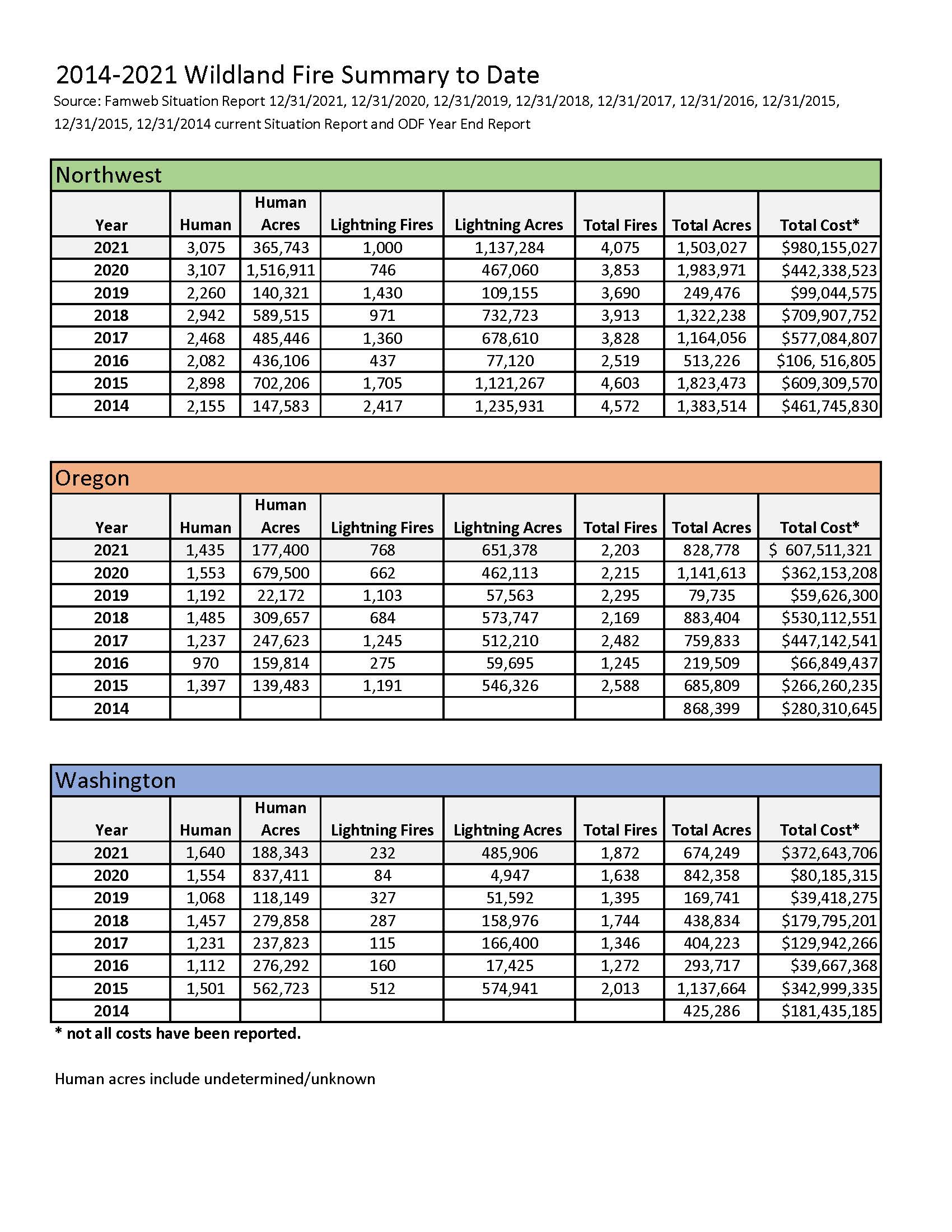 Drought-weakened forests vulnerable to wildfire
OLYMPIA (May 26, 2016) – With Washington's forests still experiencing the effects of last year's drought, Commissioner of Public Lands Peter Goldmark is asking residents to use additional caution to prevent wildland fires over the upcoming Memorial Day weekend and throughout the summer.
The extended holiday weekend brings a large number of visitors to Washington parks and forests. Following the 2015 drought year and an exceptionally warm spring this year, grasslands and forests across the state are vulnerable to fires.
"Despite recent cool and overcast weather on the western side of the state, we know there is fire danger," said Peter Goldmark, the Commissioner of Public Lands. "We're asking people to take extra care. An escaped campfire can threaten lives, property, and natural resources."
In 2015, wildfire burned more than a million acres in Washington, the most destructive season in state history. Already this year, DNR has responded to more than 100 wildland fires.
Safety tips for preventing wildfires
Here are some steps to ensure a fire-safe holiday weekend:
*   Make sure all off-road vehicles have a properly functioning catalytic converter or approved spark arrester.
*   Only build campfires when and where authorized, and put them completely out.
*   Dispose of lit smoking materials appropriately.
*   Remember that discharging fireworks or use of incendiary ammunition or exploding targets is illegal on public lands.
Outdoor burning
In Washington, outdoor burning is a leading cause of wildfire ignition. Be aware of shifting winds, especially if burning outdoors.
Prepare your home
Help reduce wildland fire hazards around the home and property by clearing excess debris, creating defensible space around the home and following "Firewise" practices. For information about protecting homes and property from wildfire, visit www.firewise.org.
Stay connected during wildfire season
*         Incident Information System (InciWeb)
Related information: by Spencer Yeomans
Smokey the Bear once told us, "Only you can prevent wildfires." And that's mostly true, considering 85% of all forest fires are caused by human negligence or arson.
Though wildfires do play an important ecological role, it's best to leave them in the hands of the professionals or to nature herself. Never leave a campfire unattended, and keep heat sources far away from anything flammable. That includes driving motor vehicles over dry grass, or using equipment that could produce sparks. In this way, we can avoid scarring the landscape, while keeping homeowners out of the line of fire. Read more at Wildfire Prevention and Safety Tips – Untamed Space
DNR's wildfire mission
Administered by Commissioner of Public Lands Peter Goldmark, DNR is responsible for preventing and fighting wildfires on 13 million acres of private, state and tribal-owned forestlands. DNR is the state's largest on-call fire department, with more than 1,100 employees trained and available to be dispatched to fires as needed. During fire season, this includes more than 700 permanent DNR employees and about 400 seasonal employees hired for firefighting duties. DNR also participates in Washington's coordinated interagency approach to firefighting.